Can you imagine everyone complying with social distancing at Luanda International Airport, while travelling to and from Angola? How will people be kept apart at check-in, collecting their baggage, or walking around in the airport terminals? And during the flights? What tests will be required and how will they be carried? Do we have the social and infra-structural conditions to implement these scenarios at short-term, or is it a futuristic vision?
The tourism and aviation industries were growing until the end of 2019, with optimistic forecasts to continue on that trend. Airlines were investing in expansion and creating new travel routes. In 2019 TAAG announced the acquisition of 6 new airplanes, to renew its fleet.
Suddenly, everything changed. Flights were banned from flying and people prohibit to from leaving their homes. The irony is that, the easiness of world travel has spread the virus that threatens tourism and aviation, as well as the survival of the human race.
What will be the new reality of air travel?
Companies operating in the sector are trying to stay in business, surrounded by uncertainty of when will things go back to normal. But what will be the normal, after this crisis? Will we continue to travel as we used to until 2019?
The hard work to adapting to the new reality will not be only for airlines but also airport and government authorities. Hopefully, they will create policies and incentives to support the introduction of new measures.
All comes down to when we will manage to control the dissemination of the coronavirus. Until then, restrict procedures for travelling to Angola will be imposed to airlines and airports, if they wish to earn permission to transport and accommodate passengers.
How will airlines react to social distancing?
Taking in consideration the financial struggles most airlines are facing to escape bankruptcy, it will be a daunting task. To make matters worse, if social distancing is to be implemented in flights, airplanes will only operate with 60 to 70% passengers. Bearing in mind the industry high operational costs, their profitability will be challenged.
Nonetheless, the difference between being in business or be grounded will be their financial and structural capacity to implement the forthcoming aviation measures, most likely to be announced soon.
With all these uncertainties, there are already companies working in possible solutions to implement social distancing. Following we list some of the innovations that will certainly help the industry.
Will this be the future of air travel?
Seats with isolating shields.
Aviointeriors is developing the Janus Seats. Revolutionary seats that consists of reverse position and include a protection shield to maintain some isolation between passengers seated next to each other. The shield prevents the propagation of breath to passengers seated in the same row.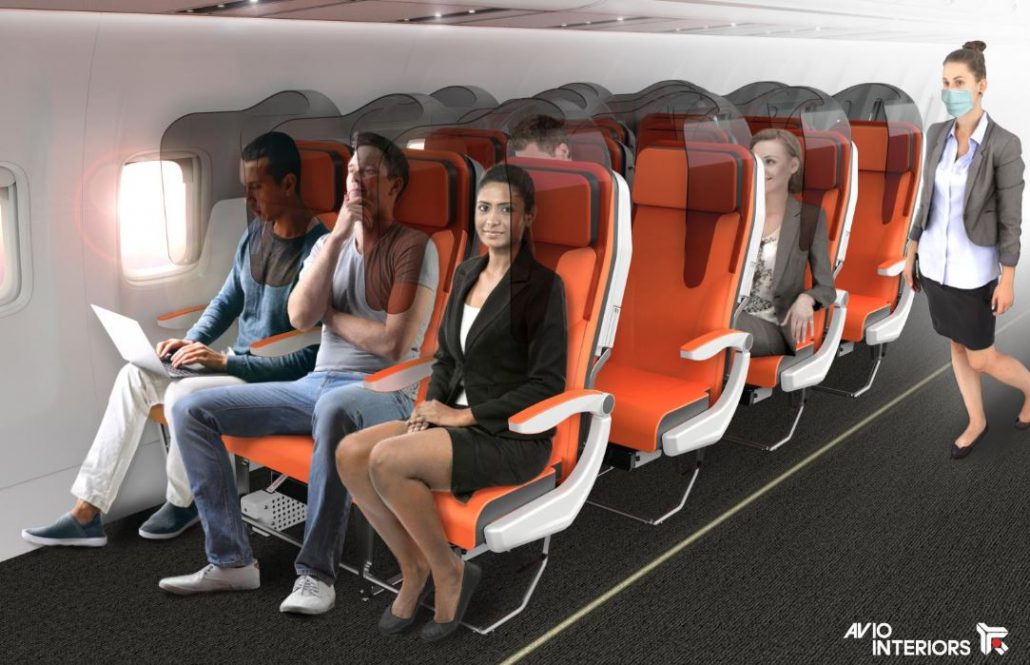 Airplanes with empty middle seats.
The idea is to have every other seat empty, to allow more space between passengers. Some airlines like Lufthansa and Easyjet are considering adopting this policy, while Ryanair's CEO said to be a ridiculous idea.
Delta Airlines has created a feature on their Fly Delta App allowing a "virtual boarding queue". It notifies each passenger when he should board, based on his seat number. It reduces congestion and boarding time at the boarding gate. This feature could also be used in other often-congested places, like check-in queues and immigration controls.
Symptom-Detecting Technology at the airport
Contactless device terminals at airports to help identify travellers with medical conditions, including the early stages of COVID-19. They could be setup at certain check points like checkin kiosks and luggage drop. Etihad Airways is partnering with Australian company Elenium Automation to start testing this technology soon.
Passengers might be obliged to use facemasks to cover their mouth and nose, since the moment they enter the airport and throughout the whole travel journey.
Several Hygiene measures to avoid coronavirus infection.
Implement several hygiene measures, during flights, to reduce the risk on contamination. Wizz Airlines released a video showing how they are adopting health and safety measures on-board their flights to protect passengers.
Temperature controls at airport terminals
Temperature controls might be implemented at the entrance of airport terminals, so passengers with high temperatures might be refused entry.  
 Even if we manage to stop the spread of COVID-19 in the coming weeks or months, most passengers will be sceptic to resume travelling immediately. This tendency will be higher for non-essential travel like tourism.
Taking into consideration the African and Angolan realities, and our "modus operandi", will we be capable of adopting the same measures that developed countries are considering?
Unfortunately, it might take some time to regain confidence in travelling and see Angolan airports and flights bursting with passengers. Nonetheless, we stand together working towards a swift recovery.